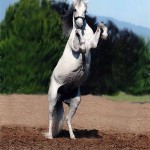 We are a husband and wife engaged in all aspects of hosemanship that can be fitted into two busy work and family lives.  We ride, train, think and write about horses. Michele's earlier career as a dancer, gymnast and fitness trainer and Stephen's extensive background in kinesiology, physical education and somatic practices, provide the foundations for how we are with horses and how we teach others to be with them.
We pursue the discipline of dressage, basing it on 'ground play' with horses and on the practice of circus, flow and meditative arts that prepare us to be most tactfully, and creatively responsive to our horses. Michele's earlier career as a trainer and presenter of Arabian horses, and Stephen's lifelong love of riding, come together in a decade-long betterment of ourselves through horse ownership.  We are presently immersed in all matters Andalusian, having ridden these magnificent beings in Europe and acquiring two of our own.  We pursue, in partnership with Spartacus de Plata (Sparky) and Mystique's Lucente (Lue), the precepts, traditions and practices of classical dressage.
In hac habitasse platea dictumst. Vestibulum facilisis rhoncus elit quis feugiat. Curabitur sapien urna, laoreet a lobortis cursus, elementum vel arcu. Nam non dignissim nisi. Nullam ut enim ut libero suscipit pretium et in sem. Suspendisse potenti. Donec tincidunt condimentum facilisis. Aliquam erat volutpat. Donec eget nunc tempor nulla rhoncus auctor. Quisque tristique dapibus massa. Cum sociis natoque penatibus et magnis dis parturient montes, nascetur ridiculus mus.
Phasellus in sem vitae diam consequat sollicitudin. Cras tempor sapien sed neque ornare porttitor. Aenean tellus augue, lacinia at ornare in, sollicitudin eget massa. Nullam vestibulum tortor in mauris adipiscing convallis consectetur nibh luctus. Cras suscipit auctor enim, sed ornare turpis faucibus sed. Curabitur mattis, augue et faucibus aliquam, nulla massa tincidunt erat, vitae sollicitudin lacus massa a metus. Suspendisse ac leo quis nisi volutpat ornare nec ut nisl. Proin non egestas elit. In dignissim enim ac diam auctor ultricies. Phasellus risus massa, tristique a laoreet sed, venenatis id tortor. Vivamus sit amet tortor ante. Nullam posuere mattis malesuada.